The Autobiography of Raymond "Hap" Halloran
Ray "HAP" Halloran, was born February 4, 1922 in Cincinnati, Ohio of parents, Paul and Gertrude Halloran; the second of 5 boys."HAP" Halloran recently passed away on June 7, 2011.
Shortly after Pearl Harbor (December 7, 1941) Hap volunteered for the Army Air Force at Wright-Patterson air base in Dayton, Ohio.
He completed training as Navigator (Hondo, Texas) and Bombardier (Roswell, New Mexico) Volunteered for training in new bomber (B-29). Trained at Smoky Hill Air Base in Salina, Kansas. Our crew of 11 was referred to as "Rover Boys Express". We were assigned to 878th Squadron, 499th Bomb Group VH, 73rd Wing, 20th Air Force.
After completion of operational training in Kansas we spent a short period of time in Lincoln, Nebraska; then Herington, Kansas where we received our brand new B-29 (flown to Herington from the production line at Boeing Wichita Plant). We then received orders to fly to Mather Field, California; then to John Rogers Field, Honolulu. We then flew to Kwajalein Atoll and our final leg was to Saipan in the Northern Marianas Islands. We traveled alone the entire trip.
Saipan was the base of operations for the 73rd Wing in that battle against targets on the Japanese mainland.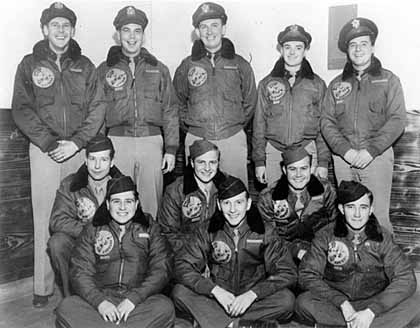 Photo of crew of Rover Boys taken in Lincoln, Nebraska on October, 1944
On our forth mission against Japanese targets we were shot down on a high altitude mission against target 357; Nakajima Aircraft plant in Musashino on the west edge of Tokyo.
A twin engine Japanese fighter plane (Nick) came in head on and critically damaged our plane (V Square 27). The comfortable temperature in our pressurized B-29 immediately assumed outside air temperature of -58 degrees. We lost two engines and our major controls within the plane. We were doomed; we fell behind the formation. We realized we must abandon our plane over enemy territory east of Tokyo.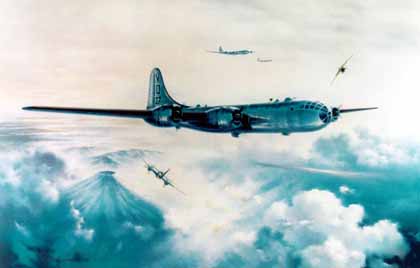 Painting of our B-29 V Square 27 passing Mt. Fuji on bomb run against Target 357 1/27/45.
All crew members were alerted to necessity to parachute. (Tail Gunner Dead). I left the bomber thru the front bomb bay (nose wheel blocked normal front escape route).
I fell free for an estimated 24,000 feet before opening my chute at about 3,000 feet over Chiba Prefecture East of Tokyo. Japanese fighters closed in as I hung in my chute. One saluted me from in close. A rarity. Six of The Rover Boys crew did not survive that day.
As could be expected I was treated brutally by civilians before being taken on a truck to Kempei Tai torture prison in downtown Tokyo across from the moat at the north end of the Imperial Palace grounds. I was confined in solitary in a cold dark cage in a wooden stable near the Kempei Tai headquarters building. Food was a small ball of rice several times a day; no medical treatment. Silence was a firm rule except during interrogations. One desperately tried to survive.
Survived the massive low level March 10th, 1945 fire raid on Tokyo by fellow B-29 crews. The fire, heat, smoke and resultant firestorm was terrifying. Never expected to survive that night.
Shortly thereafter I was removed from my cage and taken to Ueno Zoo where I was put on a display naked in a tiger cage and civilians could walk in front of cage and view this hated B-29 prisoner. I had lost perhaps 80 or 90 pounds by then and my body was dirty and covered with running sores from bed bug, flea and lice infestation. Conditions were extreme. I cried (a form of relief) and prayed constantly.
Was moved early in April 1945 to Omori Prisoner of War facility on SW edge of Tokyo. Was with fellow B-29 prisoners and other Americans including Gregory "Pappy" Boyington and 8 survivors of the submarine Tang. What a wonderful thing to be out of solitary and being able to talk with fellow B-29ers. We each had a space 24 x 70 inches. We learned to live together under a demanding situation. Food was the dominant subject of all conversations. We were subject to bombings and strafings by our planes. Our facilities were not identified as a POW compound. Those were extremely difficult days as we tried to survive.
The war ended on August 15, 1945. We were liberated from Omori on August 29th by Marines in landing craft and taken aboard the Hospital ship Benevolence in Tokyo Bay. Spent two weeks in Benevolence (not physically fit to travel). Was on the Benevolence when the Peace Treaty was signed on the battleship Missouri in Tokyo Bay on September 2, 1945. Admiral Halsey visited me in my room on the Benevolence.
Eventually flown home. Spent months in Ashford government hospital in West Virginia. Adjustment to normal life came slowly. Experienced almost 40 years of nightmares; very disruptive to my family life. In the early years after the return from POW days I absolutely tried to wipe out all those bad memories of my time in Japan. I failed.
Finally in 1984 - after much preparation and help from the US ambassador, Mike Mansfield, I returned to Japan. I hoped I could void all my memories of "those long ago days" and view people and places as they are presently.
Positive results slowly became evident in my outlook, feelings and judgments.
Understanding and reconciliation became a reality.
I have subsequently returned to Japan seven more times and visited all the major cities and with much help able to meet Isamu Kashiide, the pilot of the Nick plane that shot us down in 1945; he died on June 3, 2003. Also visited with Kaneyuki Kobayashi a former good guard.
Eventually made many new friends including Saburo Sakai, WWII Zero ace. We golfed and did air shows together. He died of a heart attack in August of 2000 while guest at a luncheon with U.S. military officers. At his request I continued to mentor his daughter, Michiko. She graduated from Trinity College in San Antonio, Texas.
By invitation I speak to groups in museums, temples, Peace Parks and other assembly points throughout Japan. Among other places on my 2002 visit I spoke to groups in Peace Parks in both Hiroshima and Nagasaki. Many of those folks were there (or their families impacted) on August 6th and 9th in 1945. They also were seeking closure almost 58 years later. I was guest and keynote speaker at dedication of a new museum on Tokyo on March 9, 2002. 31 folks from Tokyo, Kyoto, Yokohama, Hiroshima, Osaki, Nagasaki and other cities visited my home in August of 2002.
I also exchanged emails on frequent basis with historian friends in Japan and tour with them on my return visits. My return visits to Japan generally include visits to Saipan, Tinian and Guam.
I left the military service in the latter part of 1946. The road to normalcy proceeded slowly. In 1958 I joined former Consolidated Freightways, an eventual 3 billion dollar motor carrier and was associated with them for 44 years. Attained position of Executive Vice President and member of the Board of Directors.
I have three children. Dan lives in Boca Raton, Florida. Tim is presently relocating to Brentwood, California. Peggy lives in Redwood City, California.
I live in Menlo Park, California and travel extensively (over 5 million commercial air miles). Have done things with ABC, CBS, NBC, FOX, History and Discovery Channels and participated in a Dan Rather NBC "Victory in the Pacific" two hour special in 1995; filmed in US, Pacific and Japan.
There isn't a day that goes by that my memories do not flash back and recall events of those long ago days. I remember Rover Boys who did not come home. I have visited their graves in Punch Bowl National Cemetery in Honolulu and in Portland, Oregon.
I appreciate and love Freedom. I appreciate even the simple things in life. I know how fortunate I was to survive and come home.
I refer to all the days as "Bonus Days." Now that I am in my golden years I refer to them as "Double Bonus Days!"
He has also written a book called "Hap's War" in 1998. You can order one through this web site. For more information, click here.